Our Origins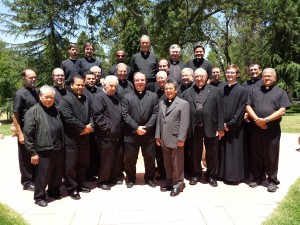 We are the Oblates of St. Joseph, a religious order of priests and brothers founded by St. Joseph Marello in 1878. It was his inspiration to gather together a group of young men who desired to consecrate themselves to the love and service of Jesus in imitation of St. Joseph. He envisioned a family of priests and brothers living lives of of chastity, poverty and obedience, in imitation according to the humble and hidden example of St. Joseph. In the United States of America, our Province is united under the patronage of the Holy Spouses, Mary and Joseph.
Our Work
From our founding, we have always understood that a fundamental part of being an Oblate of St. Joseph is to be ready to serve Jesus in whatever work and whatever place we are called, without seeking to draw attention to ourselves, but working solely out of our love for Christ. Both priests and brothers, while living in a fraternal community, seek to serve Christ through:
Loyalty to the Holy Father and the teachings of the Church
Spreading devotion to St. Joseph
Pastoral work in areas suffering a lack of clergy
Christian formation and guidance of young people, along with solid Religious Education
Caring for the elderly, immigrants and the poor
Spiritual direction and retreats
Foreign missions
Please read more about our charism and spirituality, and see what our principal apostolates entail here in the United States.