Fr. Steven Peterson, O.S.J.
Parochial Administrator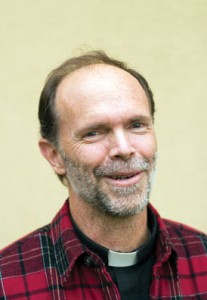 As a kid, my mother once told me that I would some day be a priest.  I never forgot that line, but always considered it a joke.
My quest to travel and be adventurous always took precedent in my thoughts and desires while sitting in the classroom. After moving away from Catholic grade school, I basically rebelled and dropped my Church and all its traditions.  I learned how to work with my hands and preferred to make money rather than study.  Ranching, farming, mechanics, and various construction trades filled my days.  Money and independence became my gods.  Religious life was not in my interest.
I left my hometown to travel abroad to discover cultures and languages in various countries.  My quest was to see and learn how other people live outside the United States.  This journey lasted over five years and took me through 35 countries.  It was during these transient years that I rediscovered my faith in God.  I quickly learned that God was my best traveling companion.  There were many times during my travels that God revealed to me that I was not alone.  I became more and more familiar with His presence and made more of an effort to pray often.
When I returned to the United States and its quicker pace, higher standard of living, and competitive nature, I decided to not let its stressful nature take over my soul.  I began ponder a way to enter into a more prayerful way of life.  I eventually started my own construction business in masonry.  The work paid well and I enjoyed it, but it did not suffice the spiritual desire growing in me to seek a more religious lifestyle.  In my spare time I taught catechism and visited Juvenile Hall on a regular time schedule.
During one of my visits to Juvenile Hall, a young inmate asked if I could hear his confession.  I suddenly realized that maybe God was calling me through this person to become a priest.  Six to eight months after that visit, I started to really look into the possibility of religious life.  I went across country to check out several religious orders.  While back east in some cell that belonged to the Fathers of Mercy in Kentucky, it dawned on me to go back to my own backyard and check out a hidden order of priests called the Oblates of St. Joseph.  They have a shrine about seven miles from my house in Aptos, Ca. So, I flew back there and met some of the Oblates.  I met Fr. Larry Toschi in Santa Cruz, and Fr. John Warburton and Brother Marcello in Sacramento. I knew from the very first visits that this was the order of religious men I should belong to.  Since then, I have been a postulant, a novice, a brother, and priest for over ten years of my life.
What a blessing it has been!  Some people have asked, "Why did you wait so long?" The main thing that kept me from entering religious life sooner was that I was told it would take 7 to 8 years of studies before being ordained as a priest.  That seemed like a long time and a difficult task to commit to for a 43 year old who has not been in school for over 20 years.  But after praying on it and talking to some of the Oblates, I decided to accept the challenge and go back to school.  Now that I look back at those years in the seminary, yes, they were fraught with hard work, but loaded with valuable gain of knowledge.  Besides, time flew so fast that eight long years seemed like three short years
Since my ordination almost 3 years ago, living as a priest and a member of the Oblates of St. Joseph has been a continuous blessing.  Religious life still has its daily challenges, but the joys and rewards of belonging to an order of men devoted to serving Christ and His Church is more than this man can ask for.