Fr. Paul McDonnell, O.S.J.
Provincial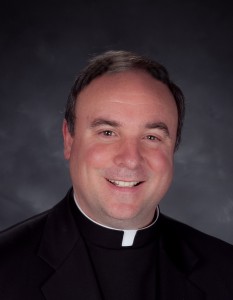 Rev. Paul A. McDonnell, O.S.J., a native of West Pittston, PA, was born on January 2,1965, to Thomas & Shirley (Petrello) McDonnell. He received all of his early education in the Wyoming Area School District. Upon graduating from high school in 1982, he entered the Oblates of St. Joseph Seminary, Laflin, to begin preparatory studies for the Roman Catholic priesthood, during which time he received a B.A. Degree in Philosophy from King's College, Wilkes-Barre, PA. Father McDonnell then spent his next five years of seminary studies in Italy, completing one year of novitiate in Padua and four years in Rome, where he received a Bachelors Degree in Sacred Theology from the Pontifical University of St. Thomas Aquinas (Angelicum) and a Masters Degree in Pastoral Theology from the Pontifical Lateran University.
Upon returning home from Italy, he was ordained a Roman Catholic priest on August 10, 1991, in St. Anthony of Padua Church, Exeter, PA, by Bishop Francis X. DiLorenzo, D.D., former auxiliary bishop of Scranton and current Bishop of Richmond (Va.). After his ordination, he served two years as vocation director for the Oblate Order and then, in 1993, was assigned to Our Lady of Mount Carmel Parish, Pittston. He served as assistant pastor from 1993 to 1997; and, as pastor from 1997 to 2006. From April, 2003, to March, 2010, Fr. McDonnell served as Provincial Superior of the Our Lady of Sorrows Province. In 2013 he was appointed to serve as Provincial Superior of the newly formed Holy Spouses Province in the United States. He currently resides at the seat of the Province in Santa Cruz, CA.