Fr. Larry Toschi, O.S.J.
Pastor, Rector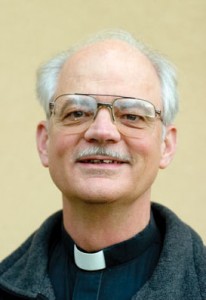 When I was six years old living in a parish staffed by Oblates of St. Joseph, Fr. De Martinis prepared and received my mother into the Catholic Church. This was very quickly followed by his baptizing me, which immediately led to Fr. Albertelli's insistence that I attend 1st grade at St. Joachim School. For eight years there the Sisters of St. Joseph of Carondolet lovingly imparted the Catholic faith to us. Fr. Marzani would come weekly to teach religion class. Fr. Crea taught me to serve Mass and Fr. Buttini further instructed me in the fine points of the liturgy and the care of the sacristy. Serving daily Mass became second nature to me, which prompted the good Sisters and Fathers at various times to ask me to consider becoming a priest. That I was not interested in! Having graduated from 8th grade, I was signed up, not for the minor seminary, but for the local public high school and was already planning activities there. One day in late June that summer, God intervened in a strange way and my plans were changed.
That day I had been at the school helping to put things away for the summer. This included carrying a box to the convent for Sr. Martha Louise, who had been my 8th grade teacher and the principal of the school. The Sisters were leaving to spend the summer at their mother house, as they did every year. As I was routinely telling her "good-bye," her parting words were that she had one great wish: to one day be able to attend a Mass celebrated by me. I don't know if I rolled my eyes back, but I remember thinking: "Oh no. Here we go again! I thought this was over with by now." With a smile she said: "Tonight, when you go to bed, just pray the 'Glory be' seven times, asking for the seven gifts of the Holy Spirit to know your vocation." I said "OK", not too worried about such an easy and apparently harmless request. Little did I know.
As soon as I finished the prayers in bed that same night, I spontaneously and immediately got up to tell my parents I should go to the seminary for my freshman year. I suppose various psychological explanations could be given for this sudden change of decision, but to this day I have never been able to see it as anything other than the mysterious working of God's providence breaking through to me. My pious mother began to cry, partially fearing that perhaps I had been pushed into this, and certainly finding it difficult to accept the idea of her only child going away to school at the age of 14. My father, however, who was anything but pietistic, quickly intervened to state that if I wanted to go, I was going to go. Whereas he had previously resisted my mother's suggestions to pray the family rosary, at that moment he took the initiative to suggest it himself, and we all prayed it together that night.
In September I was off to high school seminary, coping with being away from home for the first time, but within a few months I found in the community there the brothers that I never had by blood. I drew spiritual growth from the meditations and teachings given us by priests like Fr. Pavese. This did not mean, though, that my vocation was all decided. Spiritual direction from Fr. Grossi and Fr. Dal Degan would help me each year in my decision to continue on for another year, one at a time.
After high school I took the bigger step of entering Novitiate, which was like a year long spiritual retreat, one of the most beautiful years of my life. At the age of 19, I made my first religious profession of vows of poverty, chastity and obedience as an Oblate of St. Joseph. I cautiously renewed these vows, one year at a time, for seven years. Then I came to the decision to profess these vows for the rest of my life. I still remember the reading from 1 Corinthians 1 at that Mass, about God choosing the weak and foolish and lowly, to be his instruments. My life belongs to Him and He has never let me down. He has given me infinitely more than I could ever begin to give to Him.