Bro. David Pohorsky, O.S.J.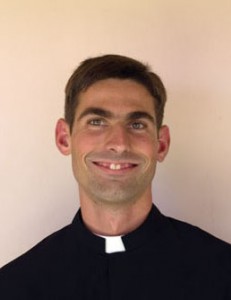 In the Oblates of St. Joseph, there is a lot of talk about trust in Divine Providence, and in my life I have continually seen it in action. Several years after moving to the mountains outside of Bakersfield to a town called Frazier Park, my parents decided to enroll me in Catholic school in Bakersfield instead of continuing to home school me. When we looked at various Catholic schools, the only one that really had any openings was Our Lady of Guadalupe, which was where I ended up going.
Later that year, in eighth grade, there was an event which changed my life. One morning I was walking across campus and a gentleman called out to me. When I went over to see what he wanted, he identified himself as Ron Warkentin. He informed me that every month he took boys from the parish up to a seminary near Sacramento. He also asked me if I had ever thought about becoming a priest. I told him that I had, and so he handed me a permission slip to give to my mother and return it to him in a week. He also gave me a phone number for my mother to call.
On the following Friday, I met him at the train station, and we boarded the northbound train to Sacramento. In Fresno, a boy named Louis joined us. When we reached the town of Loomis, Bro. Marcello was there to meet us and after loading our baggage in the van, we rode to the seminary. When we got there, I felt at home. During this weekend, the current vocation director had several talks with the group of boys that had come, explaining to us about different vocations and about the Oblates of St. Joseph. After the weekend, I was interested in possibly entering the high school seminary. At the same time, I was trying to enter the local catholic high school, Garces High School, but probably would not have been able to get in.
I wanted to revisit the seminary the following month, but the weekend was the same weekend as my graduation, so I couldn't. I decided to enter the high school seminary. I had thought that I would just join a seminary after college, but with the opportunity to enter in high school, I took it. During my first year of seminary life, I learned a lot about the Oblates of St. Joseph and religious life. I discovered about the religious brotherhood. After learning about the brothers, I felt God was calling me, not to be a priest, but a religious brother. Throughout my time in the seminary, my life has never been perfect, and there have always been trials. Some of my good friends even left. However, I would not trade my vocation for anything. In my path of formation, many would say that I was just lucky or events were just coincidence, but I believe Divine Providence has always been there guiding me, and will continue to do so.