After months of planning, development, and preparations, we are proud to launch the new website for the Holy Spouses Province of the Oblates of St. Joseph located in the United States!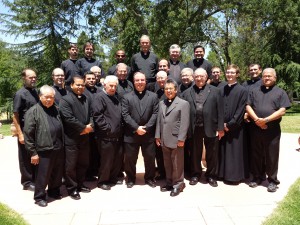 We started the work on our communications immediately after the official unification of the Oblates of St. Joseph this past March. Since then we have been evaluating how we can best share our spirituality and mission with the people we serve, how we can facilitate communication with all those interested in our work, and how we can present Jesus to the world in imitation of St. Joseph. While a website alone can never do this, we realized right from the start how important it would be for us to renew our web presence as a new Province, and thus began our work on the all new osjusa.org.
With the launch of our new website, we will simultaneously begin to redirect visitors from our old sites of osjoseph.org, oblates-stjoseph.com, and imitateJoseph.org. We have migrated nearly all of the content from these sites and merged it together in a new format and presentation that tries to captures the timeless spirit of the Church with the modern presentation of the technological world we live in.
Some of the features we invite you to visit on the new osjusa.org are:
While we are very excited about what you see here right now, we are not sitting on our hands now that the site is launched. We are diligently working to make the site even better even as you read this:
We have started to create pages for all of our SLIM chapters and we will be working with local representatives to bring you the local news and materials for our lay friends around the country.
In the coming weeks and months we will be adding the complete collection of the critical edition of Marello's letters. You can see that we have already started adding his letters in a format that is much easier to browse and search than we have ever done before.
Finally, we will eventually be running the site in both English and Spanish in order to best serve the people of our communities.
We are grateful to God for the unification of Oblates throughout the country. As this website serves Oblates and Oblate friends throughout the country, we ask you to continue to pray for us as we do for you, that our efforts to share the gospel with all people might bear great fruit for the Church!